Barcelona, Spain
It is not possible to simply "pass through" Barcelona, and it is not possible to ignore the Sagrada Familia. This is a major European city with all the energy and excitement of Rome, and all the art and culture of Paris. The city was not well known until the Olympics were held there in, I think, 1992.
Barcelona has a great way to see the sights called the "Bus Turistic." The open-air double-decker buses of the Bus Turistic run all over the city along two routes, the blue route and the red route. For a modest fee - less than $12 - you can ride the Bus Turistic along both the red and the blue routes, all day, and you can get on and off the bus any time you want.
==========
Of the many famous buildings, monuments and artworks in Barcelona, this is the most famous landmark; the Sagrada Familia (Holy Family). Designed and developed by the architect, artist, Catholic, and Barcelona home boy, Antonio Gaudi, it was begun in 1880s, but was uncompleted when he died in the 1920s. Gaudi's style has been characterized as: "...freedom of form, voluptuous color and texture, and organic unity."
Its that all right, and it's so much more.
Since his death, the people of Barcelona have been trying, in what has to be a marvel of audacity, to complete the work on the cathedral while preserving the original vision of Gaudi. Some have speculated that it could take 200 years to finish the structure.
There are several pictures of Gaudi's work here, in part because it was Monday in Barcelona and most of the other museums were closed. That meant that I could not see the works of the other three world class Spanish artists Pablo Picasso, Salvador Dali, and Juan Miro.
This is a detail high up in one of the walls of the Sagrada Familia.
These berries at the top of these columns. ...who could have imagined such a thing in a cathedral, except someone with the mind and spirit of a Gaudi.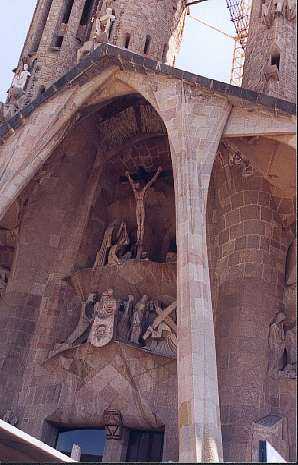 This detail on the north side of the Sagrada Familia is an image of the crucifixion.
This is a gargoyle that looks like two salamanders, entangled.
Gaudi influenced the design of many structures in Barcelona. This is a small retail shop along our tour route.