Bilbao, Spain
I departed Tunis by plane to Madrid, then by overnight train northwesterly out of Madrid to Bilbao. It was my only private berth on the whole trip, but it felt good to get some sleep.
Originally, I planned to cross from Tunis to Tangier, Morocco by train or bus across Algeria. However, all the travel literature, and the US state department said that non-Islamic tourists were not welcome in Algeria. They were particularly not welcome in the smaller cities and rural areas of the country.
Most importantly, violence toward tourists was not unheard of. So. That settled that. However, not crossing Algeria left either a big and expensive problem getting to Tangier, or a big gap in my travel plans. I had been to Tangier on my earlier walkabout, so it was easy to drop that city out of my plans, but there was still the gap to fill.
About that time, I was web cruising, and discovered the new Guggenheim museum in Bilbao, Spain. Eureka! ... in the words of Archimedes. My problem was solved.
==========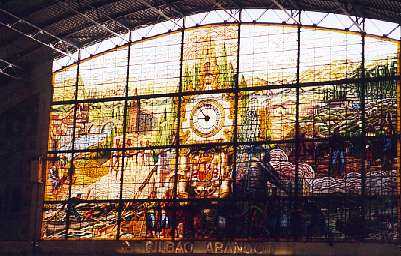 This painted glass mural is in the railroad station in downtown Bilbao.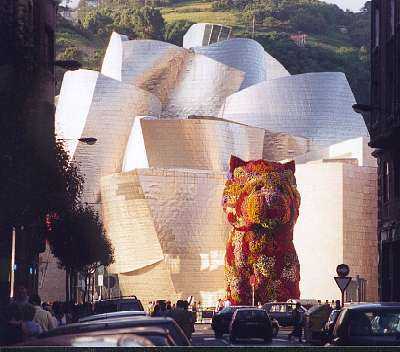 This is my favorite shot of the recently opened Guggenheim Museum in Bilbao. This is about 7:00pm, and I am actually leaving the Circe Du Soleil (Circus of the sun) after a late afternoon performance.
I am looking north from a street of apartment buildings leading up to the main entrance of the Guggenheim. The flowered puppy is by Jeffrey Koons, a New York artist. When watered, the puppy drools.
This is looking west past a back porch on the north side of the museum from a bridge across the river Ibaizabal. This shot was taken at mid-morning.
Bilbao is in Basque country in the southwestern foothills of the Pyrenees. Though the way in which the site and museum was designed, and the architect selected, were dictated by the Guggenheim foundation, the museum itself was developed (including the final selection of the architect, Frank Gehry), financed, and is now owned and operated by the Basque. The Basque Bank is the largest bank in Spain.
An apartment building in downtown Bilbao, near the museum.
This shot looks north out the window of my day train traveling from Bilbao to Barcelona. This view is typical of the beautiful rolling foothills of the southern Pyrenees along the route to the Mediterranean coast.