Cruise Ship Tour - Eastern Bahamas January 2004
This is about Mom's cruise to the Eastern Bahamas with her four children... that's me and my three sibs: Ray, Jon, and Patricia. At the time of our cruise the Royal Caribbean Mariner of the Seas was claimed to be - by the literature and by her Norwegian captain Johnny Haveland(?) - "the largest cruise ship in the world." The Mariner is 1020 feet long, 158 feet wide, 202 feet high and displaces 138,000 tons. The draft is 29 feet.
This appellation lasted until the last day of our cruise, January 12th, when the Queen Mary 2 sailed on her maiden voyage. The QM2 is 1132 feet long, 135 feet wide, 236 feet high, and displaces 150,000 tons. The draft is 33 feet.
So much for the cruise ship size race. As they get larger and larger in a never-ending size race, we will have eventually take a bus or a plane to get from one end to the other.
Beyond that the ships will be so big they will no longer be able to move about the oceans, and will be permanently anchored to shore as soon as they are launched.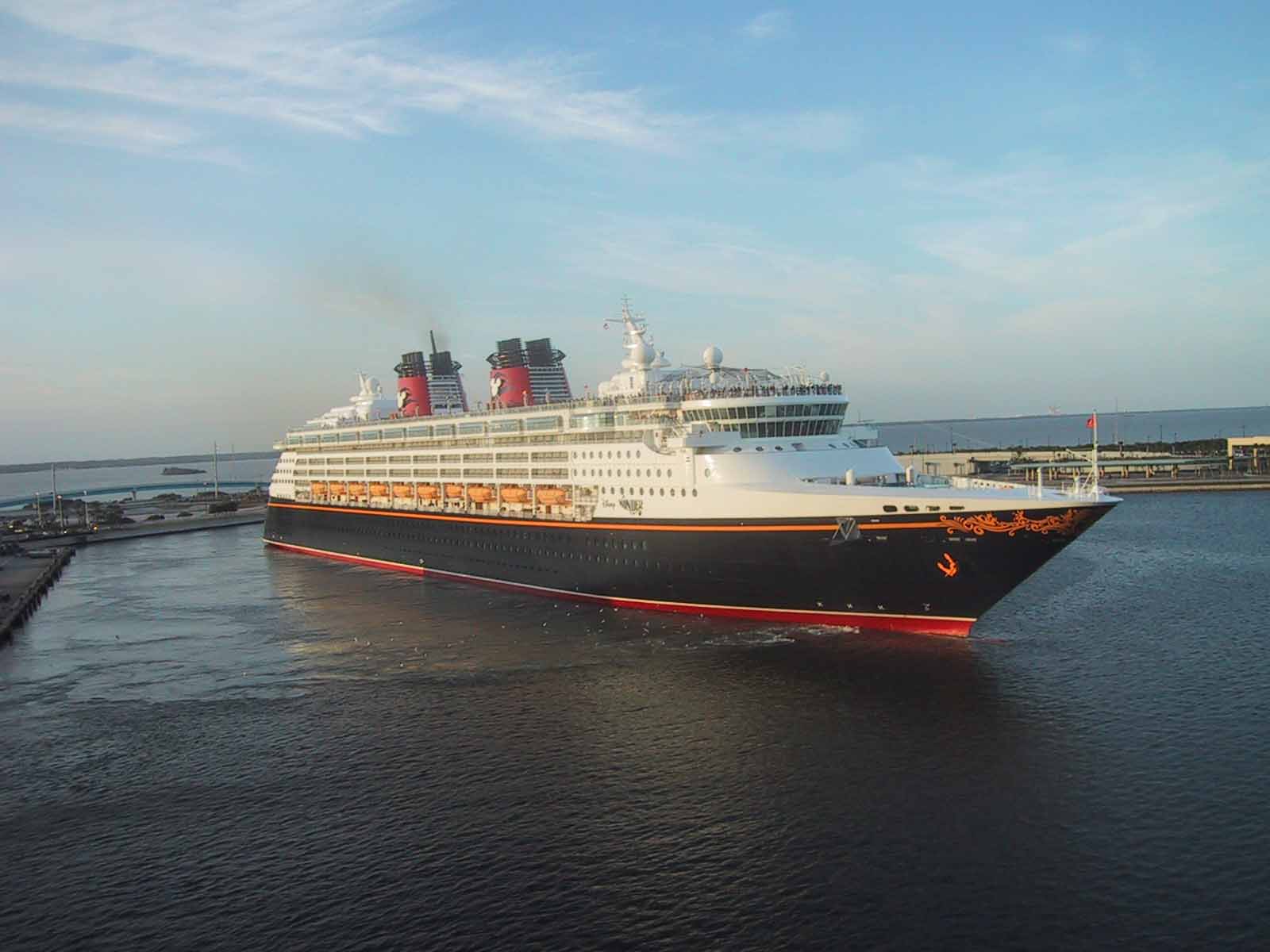 A Disney ship precedes ours out of Port Canaveral. We are watching from our balcony... The only way to go. The weather is hot even though it is near sundown. The Disney ship is "cute" with a lot of mouse figures, mouse sayings, and a huge image of Donald Duck, and Huey, Dewey, and Louie sculpted on the stern.
Patrons in this harbor side bar give us several send-off salutes using a variety of fingers.
Sunset over Port Canaveral as we head out to sea on an overnight run to Nassau.
Ships Artwork
In addition to daily art auctions, this ship was also decorated with all kinds of art works with various art themes. Turn any corner on almost any deck, or any stairway landing, and there would be a piece of art work to delight almost any taste.
One of the most interesting exhibits was this World War I dog fight using large scale models of German and British fighters. This diorama was set up in one of two silo size open cores at either end of the ship's open promenade. This one is toward the bow, just around the corner from our cabins on the 8th deck.
In the hallways of another part of the ship, tucked away, were mechanical cartoons that could be animated by turning a crank. One of the swimming pools on the open deck is tiled and decorated like a roman bath. Great stuff.
A Fokker triplane In the world war 1 air war, Baron Von Richtofen - the Red Baron - flew one.
A Dornier, probably 1:3 scale.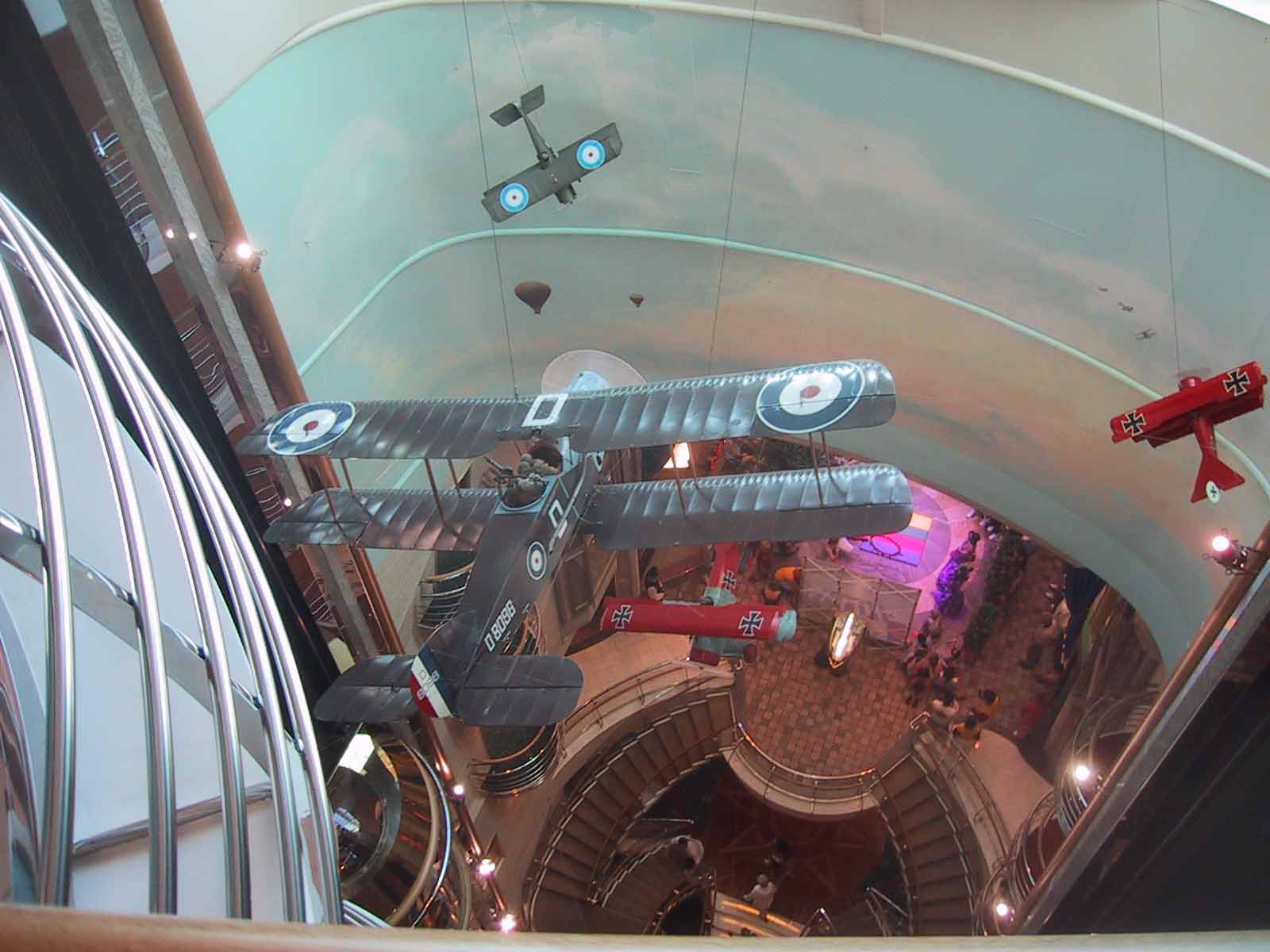 A british DeHavilland.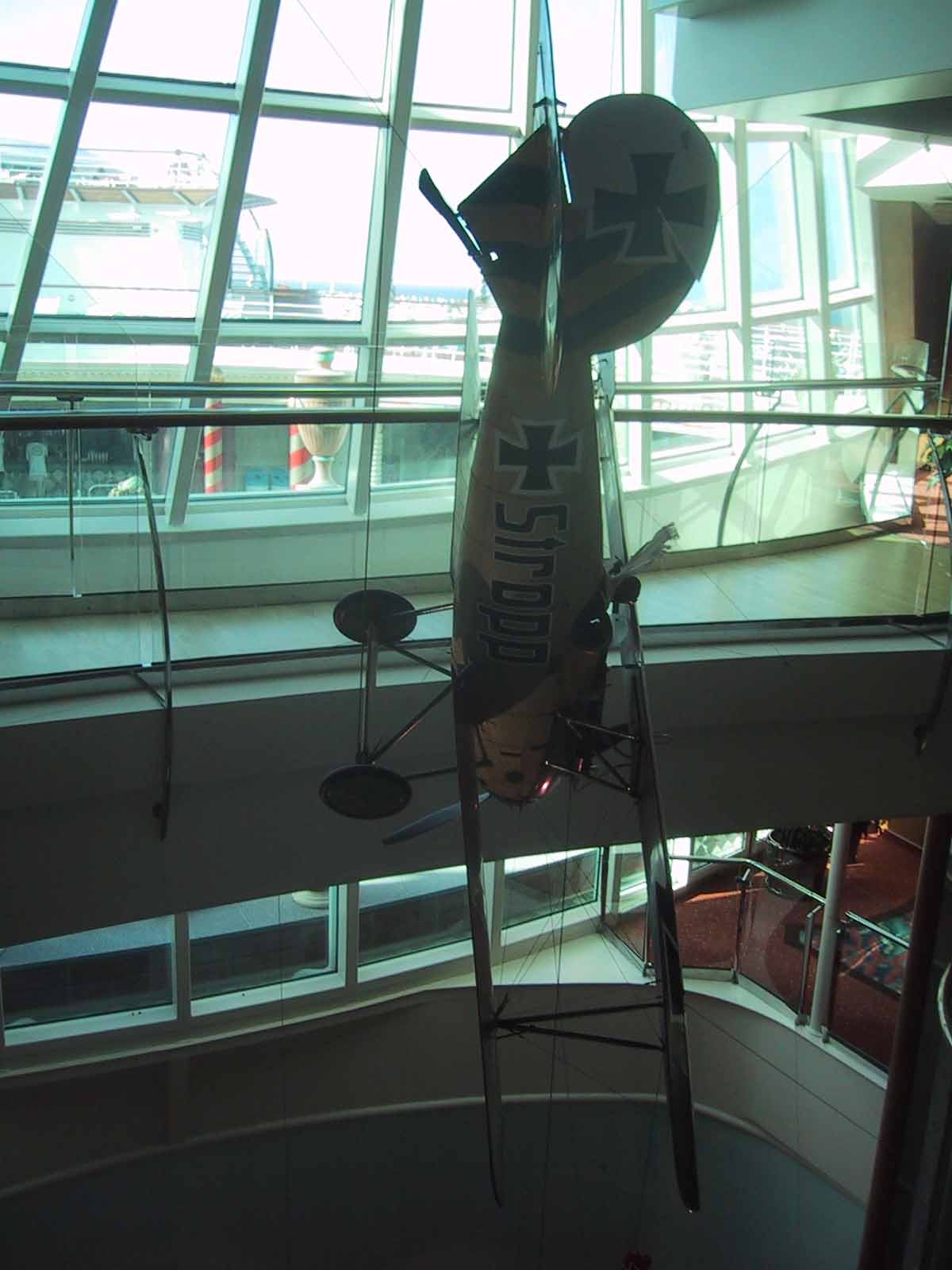 A Fokker biplane.
Shipboard clowns put on a show in the open "Promenade" in the open center of the ship.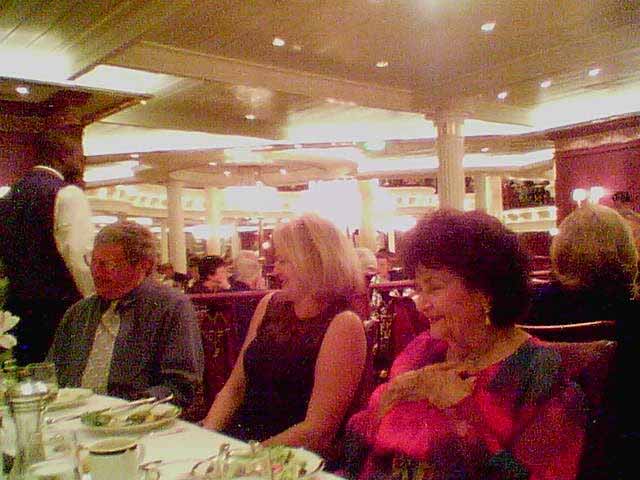 Me, Sis, and Mom at one of three formal dinners. The others are informal or themed in some way. This is our third cruise so we are used to the high class treatment at dinner. Our Costa Rican assistant waiter, Jones, is standing just behind my right shouler. Our head waiter was turkish fellow named Mahmoud. The wait staff at dinner are always four star.
Here is a family shot in front of some ship's art near our cabins on the 8th deck after a dinner on Caribbean dress night. Brother Ray, Sister Patricia, me, mom, Brother Jon.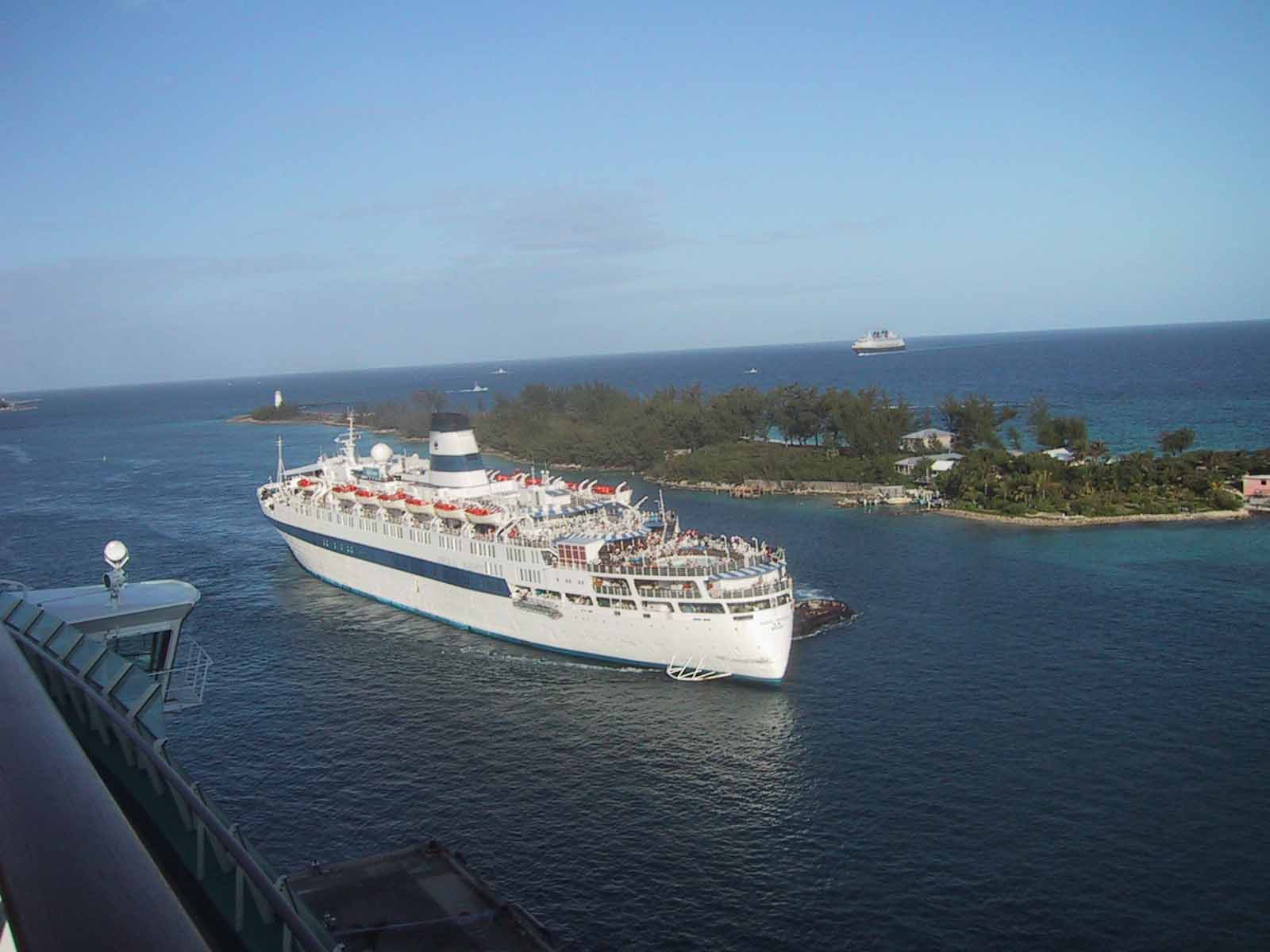 Our ship has already backed in and parked, and this much smaller cruise ship is now backing into the (rather small) harbor in Nassau. The Disney ship is waiting a mile or so away just offshore for an opportunity to pull in.
In the foreground is one of what looked like two ships of the Bahamian Navy. One of the Holland American cruise ships is in the background.
Nassau harbor is full up with cruise ships.
Tourist shopping area next to the Nassau docks. This is a very colorful and lively place to shop for local goodies as well as an opportunity to rub shoulders with the locals, and other tourists, in the cramped aisles between stalls.
Sometimes the local Bahamian vendors get a little carried away. A screaming fight broke out between a couple of vendors a few moments after this shot. I was going to try for a shot of one of the protagonists as she was hauled away by the gendarmerie, but I couldn't get a good picture.
St Thomas
The next day. We wake up parked in St Thomas harbor in the early morning.
A Brazilian family on the cheap St Thomas city tour by minibus (a pickup truck with a bus body welded to it) gets the island bus tour rap in Spanish.
Cruise ships in the harbor at St. Thomas.
Megan's Bay just over the mountain from the cruise ship harbor.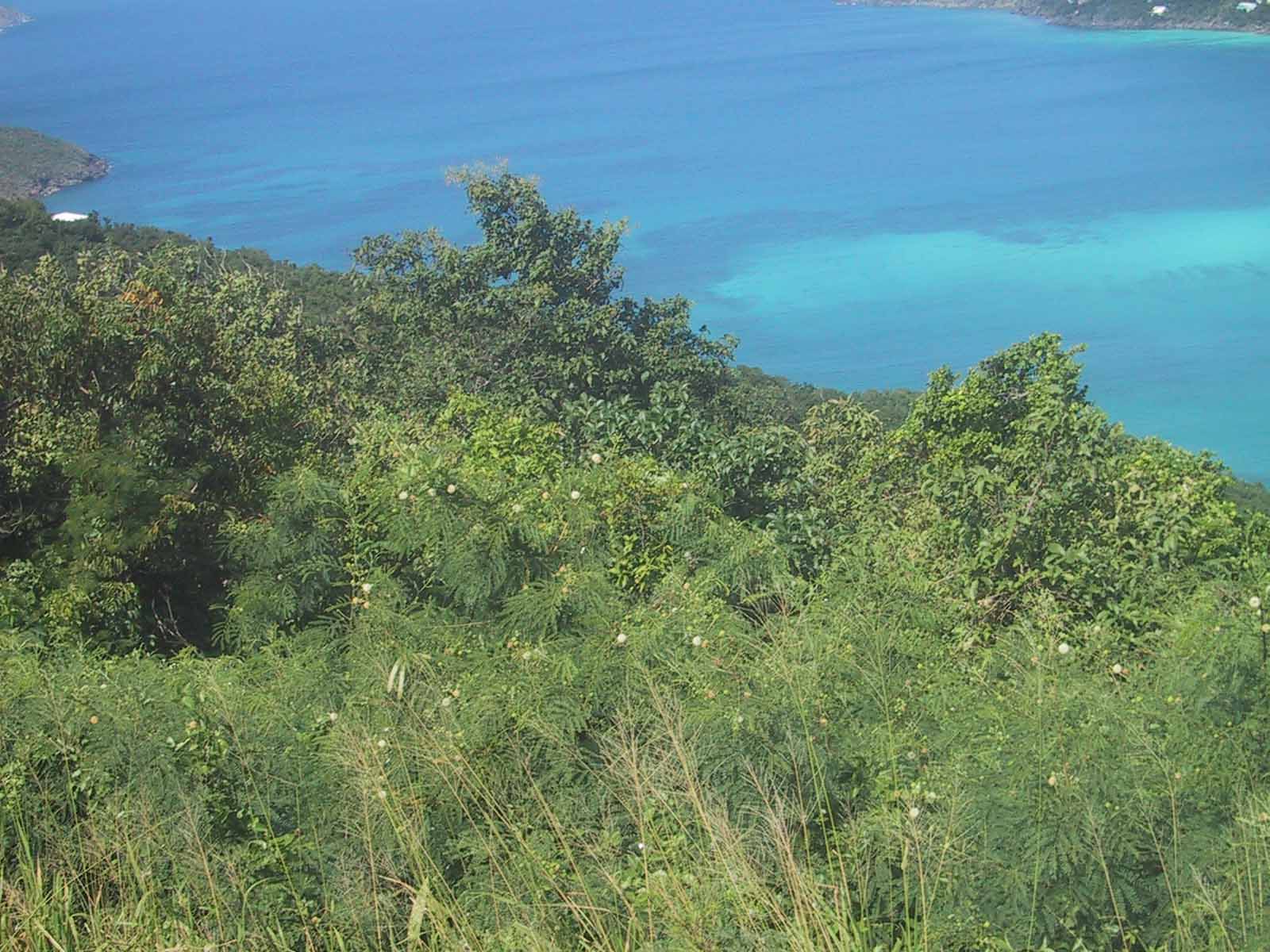 There is an iguana in this picture overlooking Megan's Bay. Can you find it?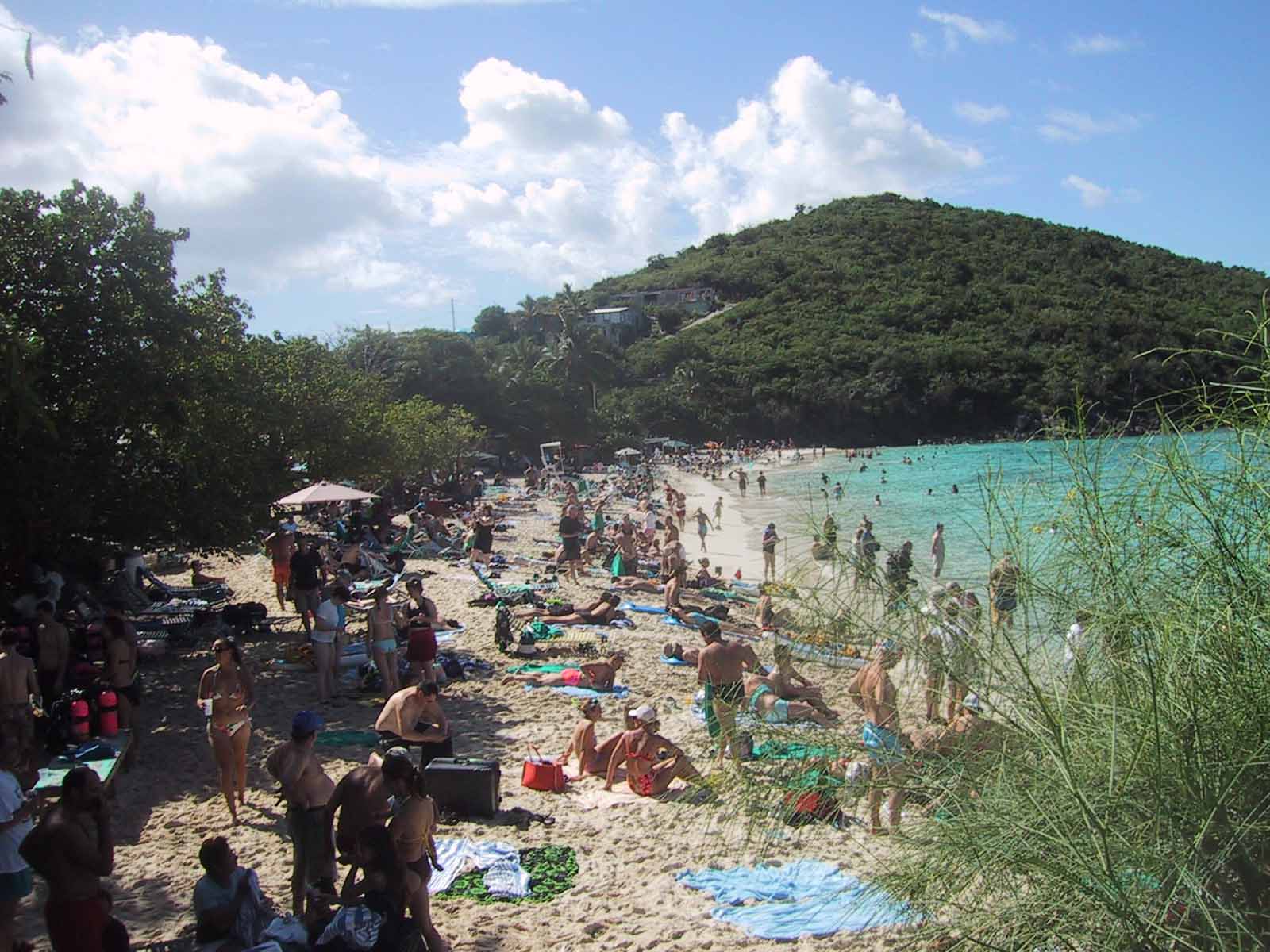 Beach stopover on the island tour.
St Maarten.
We've arrived early in the morning after an overnight run from St. Thomas. These people are having too much fun on a boat as we look over our balcony rail before leaving on our early morning bike ride..
Headed out of the harbor. On such a beautiful day, the people on this boat are just bound to have a great day.
Bike Trip
After a bus trip from Phillipsburg on the Dutch side of St. Maarten, we are getting ready to head out from a school parking lot near Marigol on the French side.
The black guy is our bike leader. Nicknamed "Mad Dog." Our first obstacle on the bike tour were flocks of sheep. We had to get off our bikes and push them off the trail.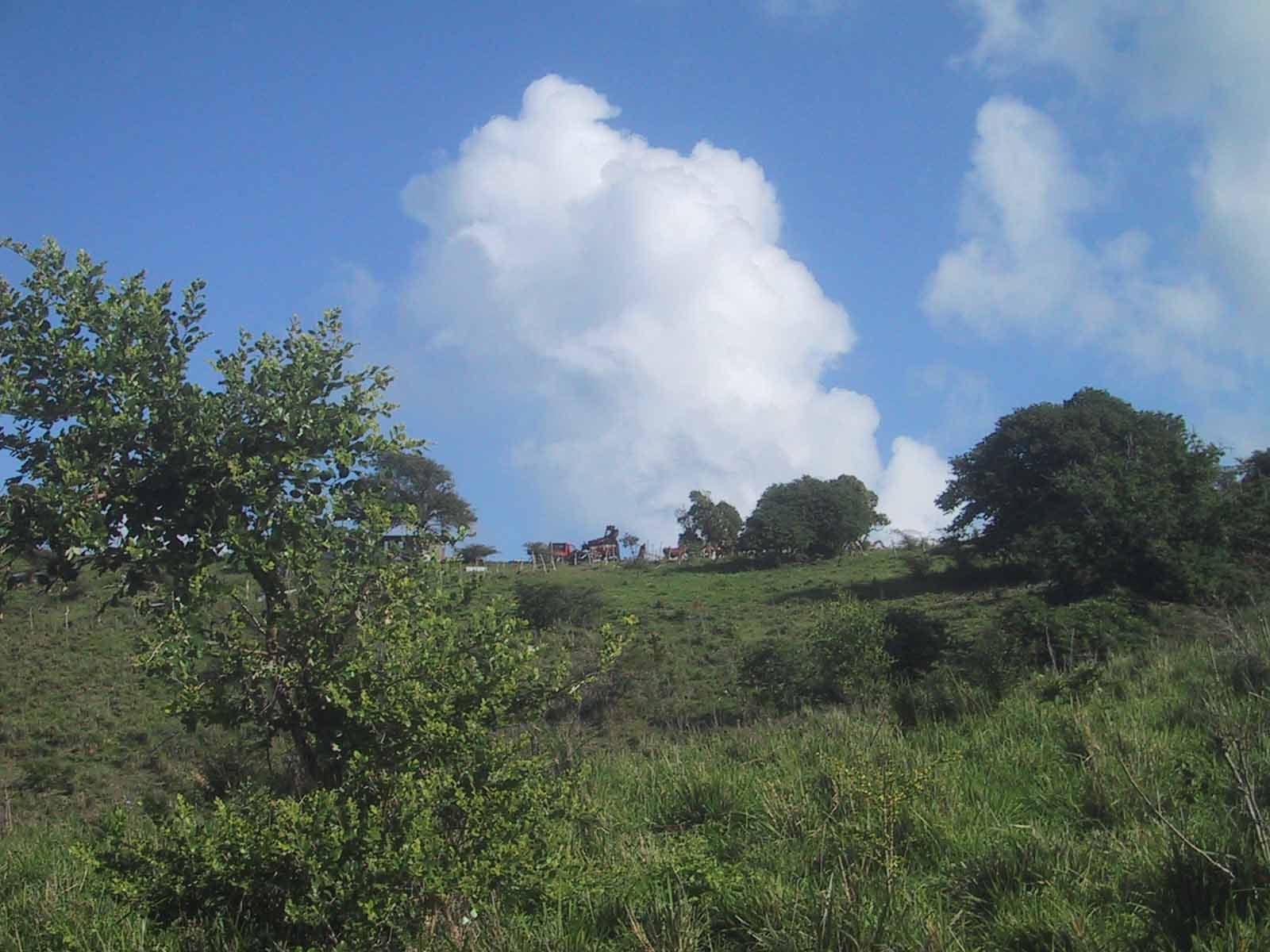 Through the cow pasture on the French side of St Maarten. In addition to sheep we also had to shoo the cows out of the way because they were blocking our path. Many cow patties were stepped in during this part of the ride.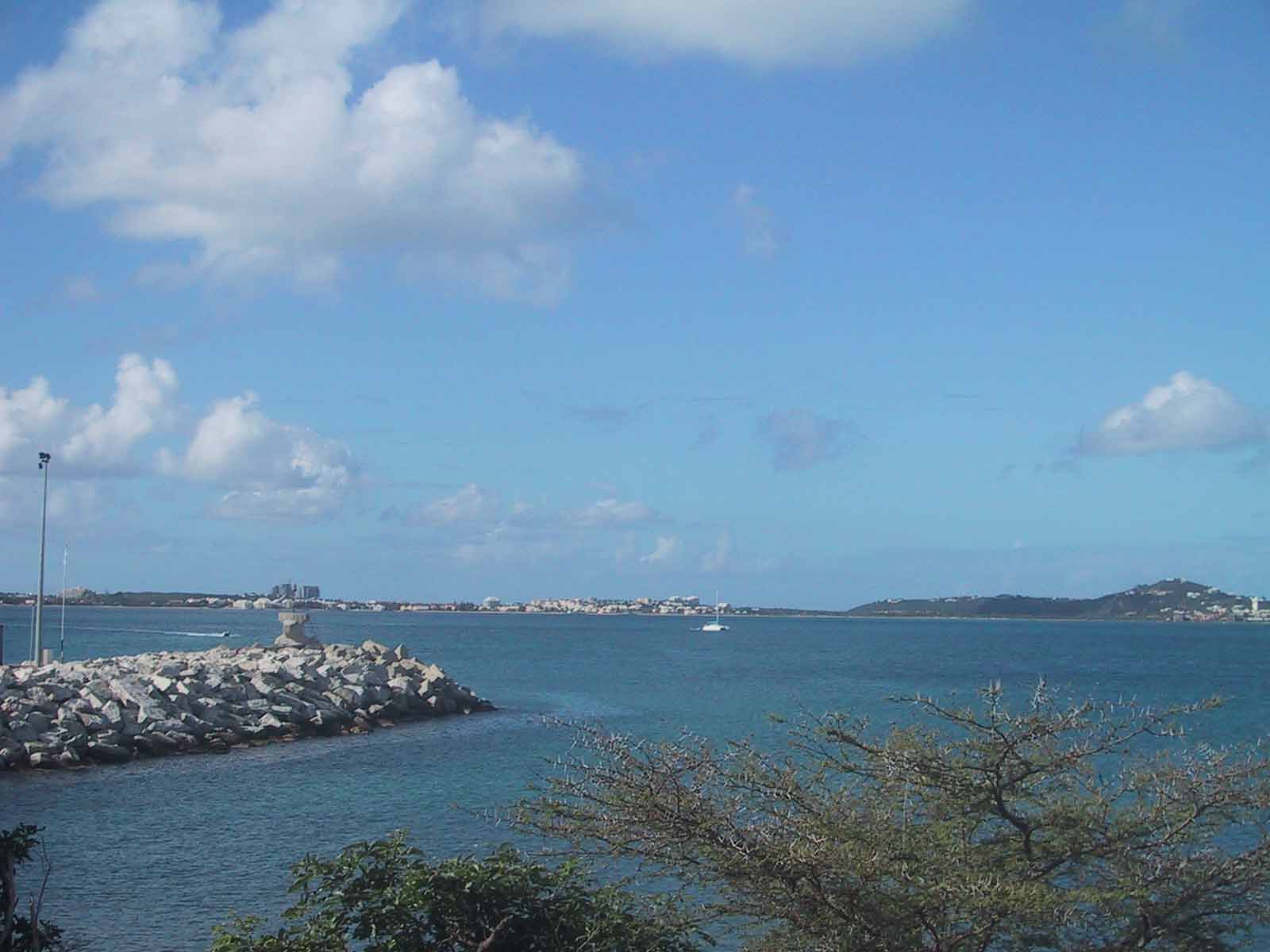 Looking across the water toward the island of St Bartz.
Plantation stop on the tour.
Brother Ray checks out the plantation.
Me with Pamela... our delightful bike tour leader. Unfortunately, my camera battery died after this shot so I couldn't take any pictures at the clothing optional beach where our bike tour ended.
Back on Board
Master of all we survey from the 12th deck of the Mariner of the Seas... at that moment anyway. The larger QM2 will be launched two days from this day. I decide to take the harbor ferry back to Phillipsburg for some last minute shopping.
Crossing the harbor from the cruise ship dock to Phillipsburg.
The captain and deck hand on the harbor ferry to Phillipsburg, Netherlands, Antilles.
A shopping area in Phillipsburg.
Back on my balcony on the ship watching this ship heading out to sea from Phillipsburg harbor.
Sunset falls on Phillipsburg harbor.
Sunset at Phillipsburg, NA.
Phillipsburg was the last stop on our tour. We pulled anchor at sundown and headed out for a 60 hour run to Port Canaveral at near full speed (22 knots). The exciting part of our high speed run back was a huge weather front about 4 hours out of Port Canaveral. At 3:00am the ship was rocking and rolling, and creaking so bad that I work up.
My thought is that the Mariner is a huge ship, and it is amazing to me that we are rolling so much. On the other hand, even the largest ship in the world is pretty small potatoes on a stormy sea. After all, the theoretical maximum wave height is about 200 feet, and such a wave would be washing over the top of the highest mast on the Mariner.
I've been in much worse seas though, and in much smaller ships, so I soon went back to sleep.
Our mom didn't take it quite as well. She swore off cruising the morning we arrived in Port Canaveral, but I think she has gotten over it.
Cruise ends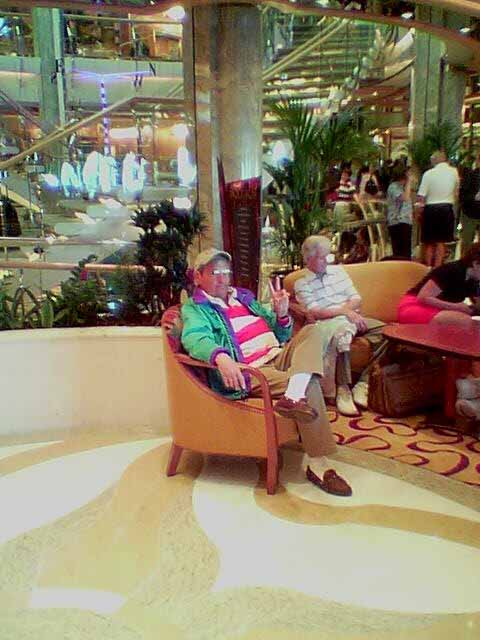 Me waiting to depart(?) (deplane... deship(?)) in Port Canaveral.