Two Old Guys on Bikes do the Yukon Loop
The Route
Jerry - Taking a Water Break
Planning the Trip
Trip planning involves deciding what pace to try for, what to take, what we need to get before we leave, and, most importantly, exactly when to go. We decide to try for an average 50 miles a day. Starting out, I consider this to be a conservative average.
Jim and I settle on leaving Juneau by ferry Monday morning, the 9th of July, and, on the other end, catching the ferry in Skagway the following Monday evening.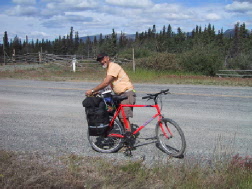 Jim - Adjusting the load
Packing for the Trip
Deciding what to take is more complicated, but I have had some experience that will help. In 1993 I and my son Gabe did a five day hike up the Chilkoot Trail from Dyea to Lake Bennett. I had a 55 pound pack, and Gabe had a 25 pound pack. This worked out well. We made our hoped for average of 6 to 7 hiking miles a day. We camped out each night in a tent; we were always ward, and, up to the last day, always had plenty of food to eat and water to drink. On the last day, the fifth day of our hike, we ran out of food. Fortunately, it was the last meal we needed to eat before catching the train at Lake Bennett for the ride back down to Skagway.
Running out of food would be less of a problem on the bike trip because there would be places to eat along the way. For other bike trip necessaries like bike repair tools, water, clothing, tents, pads, sleeping bags and cameras we simply go for less weight rather than more, sufficient quantities rather than ample quantities, and no duplication of things like tents, stoves, bike tools, axes, and shovels.
For example; instead of all the tools I have been throwing in my bike bag over the years, I took one tool to fit each bolt and nut on the bike; instead of a metal knife, for, and spoon, I took plastic ones that weigh a tenth as much; instead of my old, relatively heavy sleeping bag, I buy a new one that weighs a third as much, and keeps the user much warmer in colder tempuratures; instead of my big old Canan 35 mm SLR with telephoto, I take my new little Canon digital elph with 2x zoom.
I do not take real rain gear because, if it is any good as raingear, it is too heavy. Better, I think, to take polyester/lycra clothes that can get wet, but dry quickly. As backup in case of heavy rain, I also have my tent groundcloth, and a ratty old plastic poncho to keep things dry. Several disagreed with my trade off of quick dry clothes for real raingear, but they wouldn't be the ones pumping up the hills with an overloaded bike either.
Eldred Rock - Entroute to Haines, Monday, 11:00am, July 9th.
Ferry Malaspina tied up at the dock in Haines
It is mid-afternoon as we load up with Jim's daughter Kirsten for our ride up to the Canadian Border Crossing about 40 miles north of Haines.
Haines Border Station - First Bear Report
At the border station the Canadian border guard wants to know if we are carrying Mace. Apparently it is considered a weapon in Canada. Ours is pepper spray, so no problem. The guard advises us that since there is a bear near the border station, we might want to go up the road a ways before starting our journey on bikes.
Packed and Ready - Haines Border about 4:00pm
The loaded bike and I weigh about 250 lbs. There is a downhill grade from here so I think this can't be all bad. Our chase car with Jim's daughter Kirsten and wife JeanAnn is about to leave.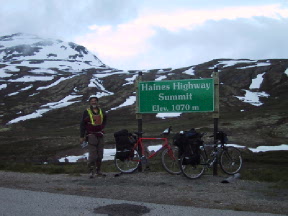 Haines Summit - About 9:15pm
Its cool, verging on cold (maybe 40 degrees) and drizzely as we make the summit. Out clothes are getting damp, and the whole idea of setting up camp in the summit weather is not a pleasant thought. Jim suggests an airport runway nearby. "OK," I think, grimly.
Nakahini Resort - (aka "Green Shack")
We can't believe our luck when we find the Green Shack about 30 minutes from the summit. It is fully equipped with stove, chopped, dry wood, some food, some blazo, two bunks, books, everything we need. It is a regular Hyatt-Regency Boondocks.
Tuesday, 6:00am
On waking there is some new snow on the nearby peaks. I think about how grim it would be to have set up tents and cooked dinner in the wet cold air the night before. Thanks to whoever did the Green Shack.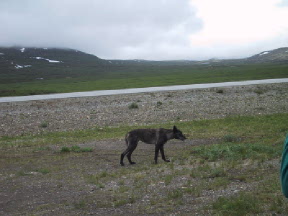 Wolf
As we sit down to breakfast, this wolf walks by the door. He must be a yearling separated from his pack. beautiful chocolaty-grayish coat on the animal, though he is scrawny.
Million Dollar Falls
It turns out that the worst hill between Haines and Haines Junction is not the ride to the summit; it is the hill up from the bridge across the Takhanne river near the so-called Million Dollar Falls. The hill curves up around the mountain, so what appears to be a reasonably short 1/2 mile hill turns out to be an unreasonably long 3 miles hill at a grade of at least 8%. This is a tough grind on a loaded bicycle so I walk up the last part of the hill. I am not happy as I arrive at the top. An elderly tourist with her husband in an RV are looking at the view back down the hill. As I arrive she says: "You must be crazy." I have trouble trying to think how to tell the woman that this is a challenge for us, therefore we are not crazy.
Attack Terns
While pedaling toward Lake Desadeash on our second day, I was in the lead, and some seagulls (I thought they were seagulls) were flying around and making a lot of noise as we approached. Suddenly I noticed that a big seagull was flying at my head with his feet down. I though he was going to hit my helmet, but he didn't. After a coupld of more passes he gave it up, and went back to circling around and screeching. Jim said these were terms.
Smaller birds - plovers I think - had been running along side the road in front of me all morning, as though trying to distract me away from their nests. The terns were big like seagulls, and at least as noisy.
Field of Lupine
This field of lupine is typical of the flora along our route from the summit to Lake Desadeash.
Lake Kathleen
Nice vista across Lake Kathleen. The day is still sunny and warm with a following wind.
Second Bear Sighting
Saw a black bear on one of the hills enroute to our second campsite of the trip. Some friendly Yukoners in a pickup truck placed themselves between us and the bear, as we pedaled slowly uphill past it on the opposite of the road. The bear is undisturbed by it all, and keeps busy munching grass.
Desadeash Campground
Our second campground. Not very noteworthy, but we did meet a german girl who works as a mid-wife. She has a friend living in the Yukon, and, after delivering the friend's baby she is touring around the area. She is from Frankfurt, and says there is a direct daily flight from Frankfurt to Whitehorse.
Wednesday, 10:00am - Third Bear
We leave Desadeash. The sun is up, there is a following wind, and the day aheadlooks good. Within a mile or two of our start, we spot a brown bear crossing the road about 1,000 feet ahead in a low spot. If we get near the bear in the low spot, and he or she decides to come at us we will have to pedal uphill in either direction in order to try to get away. We wait.
After a couple of minutes, the bear seems to have gone on his or her way, and there are no cubs. Jim says lets go. We Go. No problem.