Rome - The Tiber and the Coliseum
==========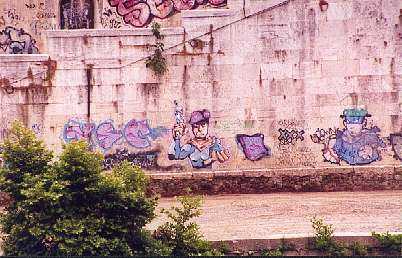 On a walk along the Tiber between the Vatican and the Coliseum, I spotted this example of Roman graffiti. Graffiti is the art form of the people, today, and it can be found on vehicles, bridges, and buildings all over the western Mediterranean Basin.
I am inside the Coliseum here. These passageways were under the floor of the Coliseum when it was real. The lions, tigers, and other surprises for the gladiators were kept here until they were ready to be released. These passageways have been open to the elements now for many hundreds of years.
The Coliseum was commissioned by the Emperor Vespasian in 72 AD. It opened in 80 AD, and held 55,000 spectators. Spectators could be seated within 10 minutes of their arrival, and the entire Coliseum could be cleared in about the same amount of time.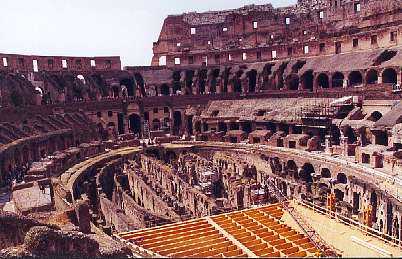 Romans are replacing the floor of the Coliseum, though I'm not sure why... unless they want to restore Gladiatorial combat to entertain the tourists.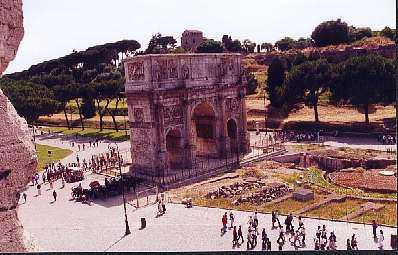 This is an Arc of Triumph for the Emperor Constantine. I am looking southwest from the third level of the Coliseum. This arch was dedicated in 315 AD to celebrate the victory of Constantine over his co-ruler Maxentius. Constantine claimed he owed the victory to his vision of the True Cross. Shortly after, Constantine began construction of the Basilica of St. Peter.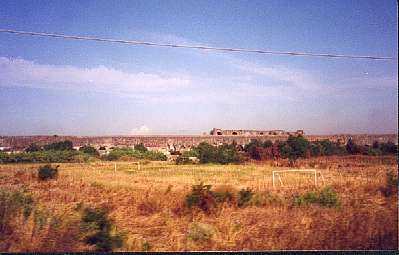 I am enroute south from Rome to Syracuse (Siracusa) by train. The arched structure in the far distance is the remains of a Roman aqueduct.
This is the west coast of Italy just north of Napoli. Vesuvius, and the City of Pompeii lie about 20 miles south of Napoli. The rail line south of Napoli is very mountainous with long tunnels every few miles.